Birthday Parties
CELEBRATE YOUR BIRTHDAY LIKE AN ALL BLACK
Have the ultimate birthday party at the All Blacks Experience!
Kick the stress into touch and book your birthday party with us!
The team at the All Blacks Experience will throw the perfect birthday party for your whānau and friends. We take all the hassle out of organising a party and make sure you have everything you need, from awesome party invitations to a dedicated party host on the day.
All our party packages include a 45 min All Blacks Experience tour, where guests will hear from the players what it's like to be part of the teams in Black, put their skills and knowledge to the test, and experience the jaw dropping Haka in our immersive space. The group will then have access to the interactive Step Up zone where you can compare your skills, test your knowledge and see if you have what it takes to pull on the Black jersey!
We'll provide a private room for the group and you can either bring your own food or we can recommend some local catering providers. Once you're partied out, leave the mess behind for us to clean up.
We'll keep everyone entertained for 2 hours 30 minutes.
Afternoon Sessions
12:30pm - Room available for set-up
1:00pm - Guests arrive
1:15pm - Tour starts
2:00pm - Tour finishes - move into the interactive Step Up zone
2:30pm - Time for food, presents & cake!
3:30pm - Party ends, guests depart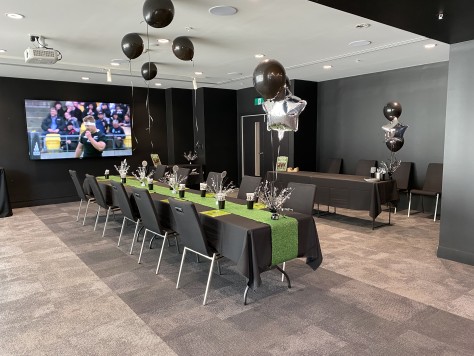 Our Party Package includes

Afternoon party sessions are available on Saturday and Sunday, and include:
Exclusive use of our party room, set up with tables, chairs and games
Guided tour through the All Blacks Experience including loads of time for everyone in our interactive Step Up zone!
Dedicated party host to look after the group
Themed birthday party invites
10 kids + 2 adults
All for just $350
Additional kids/adults = $29pp
To book your party just click the 'Book Now' button at the top of this page and choose your date.
Once you've booked your party one of our team will be in touch to confirm if you have any questions or would like to book in any additional guests.
Get 50% off carparking when you park at SkyCity Car Park. Just bring your ticket to the Front Desk who will validate your ticket before returning to your vehicle.
If you have any questions please email us at reservations@experienceallblacks.com or call us on 0800 2665 2239.